News
January 9, 2008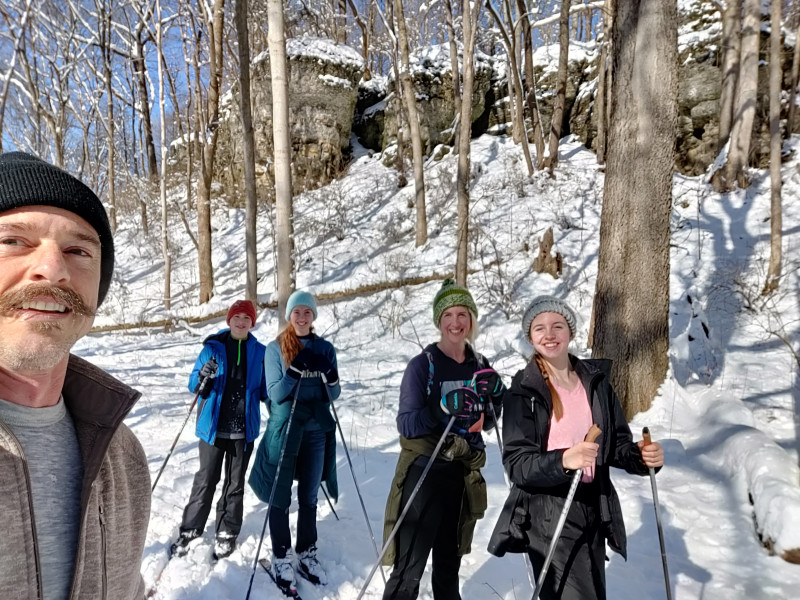 A look at one of Indiana's most beautiful rural ski areas. Deer, turkey, eagles and osprey --all are a common sight at this park located in the forested hills of the Wabash River Valley, in Cass County.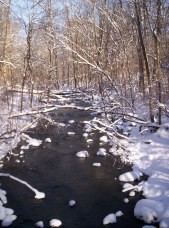 Paw Paw Creek
Seventy years ago, no one would have imagined the abundant wildlife, the beautiful forests, and the picturesque prairies that now sprawl along the Wabash River. A century and a half ago, the Wabash and Erie Canal sliced through what is now France Park, bringing in its wake the railroad industry, and a large stone quarry. But in the 1940's, when mining crews struck a vain to the massive Teays Underground River, tranquility gushed back into this pristine area.

Today, the Canal is only an eroded icon of the past, with a thick forest canopy hemming in on all sides. The railroad to the north of the Park is silent for all but a few days each month. And the hundred acres of quarry are now beautiful lakes with crystal blue water, welcoming swimmers, fishing buddies, and scuba divers. Rocky cliffs up to 80 feet tall slice through the park, some carved by quarrymen, others sculpted by the Wabash in a by-gone era.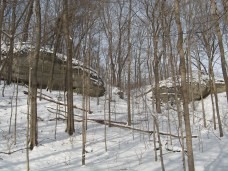 A few of the many rocky ledges
Forested knobs and ravines sprawl through the park, as all stream flow to the Wabash River basin. It is not uncommon to see a handful of bald eagles and osprey during a day at the park, and wild turkey and whitetail always out-number people on a quiet day.

But that is not all that makes France Park a perfect place to Cross Country Ski. The broad trails with gentle curves seem specifically engineered for the Nordic sport. Forested trails are well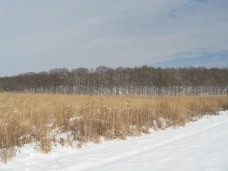 View across the prairie
cleared of tree debri and stones, and prairie paths are mowed during the warmer months. This commitment to the trails ensures smooth skiing in as little as four inches of snow. And when we are blessed with a foot or more of powdered fun, then the off-trail forests become as inviting as your sense of adventure.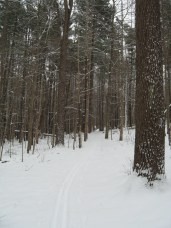 Pine stand in the Park
The southern portions of the Park are skiied by only a few, thanks to the distance from the parking lots, yet offer the best trails, the most untouched forests, and opportunities for spotting eagles, great blue herons, and other wildlife.

When our next snowfall graces Indiana, consider a trip to France Park, ...you will be surprised by this hidden treasure that so eloquently speaks to Indiana's natural heritage.
--AK