News
November 16, 2008
How to Choose the Right Skis, Bindings, Boots & Poles
The equipment you choose for cross country skiing depends on how and where you intend to ski. Are you primarily using the skis on trips to the Upper Midwest, the Rockies, and the Northeast where thousands of miles of trails have been machine groomed? Or are you more interested in exploring the backcountry anywhere snow falls in North America? Although Indiana has sufficient snow events virtually every winter, you will be hard pressed to find any place in Indiana with groomed trails. So if you are interested in recreational skiing in Indiana, and enjoying both backcountry and groomed trails in other states, then certain ski equipment will suit you more than others.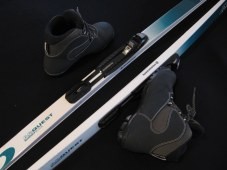 Racing skis, and maybe some narrower touring skis, both which are ideal for in-track classic (diagonal) skiing will prove too unstable for setting your own tracks in parks, golf courses, and forest areas. Skis designed primarily for the skating technique is not an option without groomed skating lanes, which you are not likely to find until you travel beyond Indiana's northern border. Another consideration is the style of the "kick-zone" --traditional or wax-less. With traditional skis, the middle third of the ski, known as the kick-zone, is coated with a wax of a specific viscosity that grips the snow when shifting weight and a pushing-off motion is applied. Wax-less skis, however, use a fish-scale tread in the kick-zone that easily glides forward, but grabs the snow with shifted weight and pushing off motion. Traditional skis require that new wax be applied each time the skis are used, and the wax is matched to the temperature of the snow. When applied appropriately, this method produces less friction and is faster and essential for competition.

However, in Indiana, applying waxes for conditions that change drastically from day to day, and where the season is shorter than higher altitudes and Northern regions, applying wax is a sure way to miss hours of fantastic skiing. Wax-less skis, however, are very low maintenance, requiring only occasional glide wax.
The ideal ski for Indiana is a wider "touring" ski with a wider, more manueverable side-cut, and also with a wax-less design. This ski is perfect for setting your own tracks, and reusing your tracks over and over. The wider base helps prevent your skis from "rolling" off of the tracks, as ungroomed tracks usually have soft sides, and develop a slight to heavy crown with use. The "backcountry" is usually a bit wider and is also suited for traversing through deep powder, and enables you to tackle Indiana's biggest snow storms, as well as take on a high altitude trip to the Rocky Mountain Backcountry.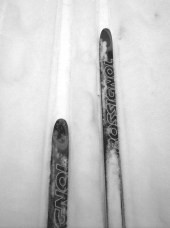 Many skis that are sold today will advertise a percentage for time spent "out-of-track," "off-trail," or "off-piste." A ski with a 50% out-of-track rating, will be an excellent all-around choice for skiing in Indiana, as well as recreational skiing in other states with groomed trails. Ski width and profile is expressed as "sidecut," in millimeters of the tip, waist, and tail of the ski. A wider overall cut with a proportionally narrow center translates into increased manueverability and stability. The widest and most aggressive sidecut back country skis (68-60-65) usually have metal edges and are only a step away from telemark skis. They would not be the best choice for Indiana. Conversely, a longer ski with a 41-44-44 sidecut would be great for competition and groomed trail use, but would fail significantly in manueverability and traveling off-piste. A great ski for breaking new tracks and settling in to old ones is a ski with around a 60-53-58 width measurement. A ski with these dimensions may be sold as either a "touring" or a "backcountry" ski.

Ski length is determined by your weight, but is difficult to chart, as the sidecut of a ski will affect the length that is appropriate for you. It is always best to check the manufacturers chart for that particular ski. Choosing the wrong length could result in either too much drag in the kick-zone, or simply not enough traction.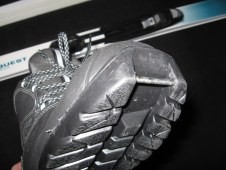 In addition to the skis, you will need a good set of bindings. The timeless 3-pin (75mm) type binding is a sturdy standard and available at an economy price. Commonly used for rental skis, 3-hole bindings are manually clipped to the boot toe and have few breaking parts. They may be more likely to grab sticks and branches that protrude through shallow snow and lay across the track after heavy winds, but they certainly have stood the test of time as far as durability is concerned. More modern bindings include the SNS, NNN, and NNN-BC. These styles are available as "auto" bindings which your boot clicks into simply by pushing the toe into the mechanism. The bindings release by pushing a buttom with either your hand or with the tip of your ski pole. These modern bindings are both convenient and very low profile. NNN bindings can easily handle recreational skiing of Indiana back-country, but if you are an aggressive skier looking to explore every ravine and deep woods, then the NNN-BC will provide you with the highest level of stability, control, and strength, thanks to it's wider binding post and heel rails.

Boots must be matched to the style of binding you choose. Racing boots are typically slim and ultra-lite with lower cut tops, and not well suited to skiing out-of-track. You will want to find a boot with a higher cut and more sufficient padding at the collar. Some popular back-country boots look more like hiking boots than ski boots, while others are more considerate of resistance and ice build-up in deep snow with smoother lines and lace covers. This is where personal preference, comfort, and skiing style will be your guide. Boot sizing is generally metric, and the sizing chart will help determine which size is best for you.

Ski poles are easier to choose. The sizing chart will help you decide what is best for you, and personal preference may come after using slightly different lengths.

After shopping around, and becoming more familiar with the skis, bindings and boots available, you'll be ready to make a purchase and start enjoying all that Indiana winters have to offer.

--AK

Sizing Chart for Poles and Boots